Along with $75,000 and Headlining the Rupaul's Drag Race Absolut vodka  US Tour, I failed to mention, the winning queen wins a lifetime supply of Krylon prof. make-up. So this week the queens were split into two teams. Phoenix and Mariah were team captians.
Phoenix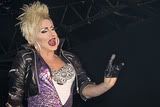 Mariah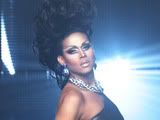 Each team was given a script in which they had to act out in their best outer space looks. Phoenix's team acted out Drag Queens in Outer Space: From Earth to Uranus. Mariah's acted out Return to Uranus, the sequel. Mariah's team won the challenge.

Shangela and Alexis Mateo who played the Twin Bots won this week's prize.
A gift certificate to boobsforqueens.com

They didn't do better than my girl Raja but, Raja was on the losing team.

So two of the queens from Phoenix's team had to lip-sync for their lives. Raja won immunity last week so it ain't her!

It was between Phoenix and Delta.

In the end Delta was told, Shan Te you Stay while Phoenix had to Sa Shay Away.
Bye Phoenix, hope to never see you again.

This week's guest judges were Caprica's Alessandra Torresani and living legend Lily Tomlin.